<3 Valentines day gift guide from Dorkadia <3
---
<3 Valentines day gift guide from Dorkadia <3
---
And you thought you did so well at Christmas… but what is this? ANOTHER GIFTY HOLIDAY IS RIGHT AROUND THE CORNER?? Well fear not intrepid nerdy friends, take a look at our suggestions below! With a week to go and ideas at your fingertips, do not be caught empty handed this Valentines day!
Give your loved one the kissing disease Epstein Barr! Or rather, a plush version of the microbe. There are may different different plush microbes to choose from. Depending on your mood, you could go with a different plush and be able to say "I gave him herpes for valentines day". You would also be a little creepy. I wouldn't recommend telling that to too many people. For those like me who don't have a clue how to present such a gift – for $20, you can get a heart shaped box of 5 plush microbes together titled "Heart Burned".
Valentines day is yet another holiday that doesn't seem complete without chocolate. Looking for something that is a little more personal than a 1lb box of sees candy, or a little more tasty than the box of Whitman's chocolates your grandmother always seems to have around? Check out the Ghirardelli chocolate gaming dice via ThinkGeek! Roll fast so your dice don't melt, and if you get a 1? EAT IT FAST BEFORE ANYONE SAW YOUR ROLL.
Maybe your tastes this year run a little more traditional, and you would like to give the gift of jewelry? Check out these AMAZING rings by Swank Metalsmithing. Certainly not the most inexpensive gift, starting around $600 for the set, but come on. COME ON. These are fantastic! With other designs to choose from (by why you would want anything other than "I love you" and "I know" is beyond me), Swank's etsy shop is not to be missed!
Are you that rare person who actually thinks that those chalky heart candy things taste like anything other than dried up peptobismal shoved into a heart shaped plastic mold,  but want to give them as a gift to someone without phrases like SWEETY on them? Well my purple unicorn, look no further than the Bittersweets brought to you by the folks at demotivators! For  $10 you can get all the phrases like I MISS MY EX • PEAKED AT 17 • MAIL ORDER • TABLE FOR 1 • I CRY ON Q • U C MY BLOG? • LOSS LEADER • A FINE WHINE • MOMMY ISSUES • DIGNITY FREE • DORK MAGNET • PURE NAUSEA • WE HAD PLANS • MAIL ORDER • SETTLE 4LESS  and more.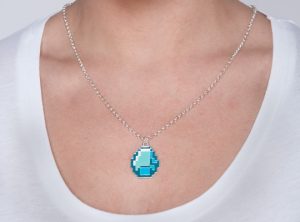 Want to give a diamond but 857 months salary is a little out of your price range? Check out this "diamond" Minecraft inspired necklace from J!nx! Creative, and in a creative budget, this one is a winner at $15.00.
How about you friends, do you have any suggestions for your fellow nerds on what to give this Valentines day? Please leave your comments below!
---