Hands on with the Elder Scolls Online beta (PAX)
---
Hands on with the Elder Scolls Online beta (PAX)
---
I recently had the privilege of playing the Elder Scrolls Online beta at Pax. All I can say is WOW – I can't wait to see more.
The hands-on area was set up to get lots of people through the Bethesda booth in a short time, so I didn't have a chance to play with character customization much, they had us jump right into the game. My character was a Dragonknight class, and Argonian race.
First off, the graphics are amazing. You can see every texture on each surface. Every blade of grass is distinguishable, and the scenery is absolutely breathtaking. Bethesda was running Revolt gaming PC's, but I don't know the internal specs. I assume this game will take a decent gaming rig to run at the resolution/frame rates that I saw.
Speaking of frame rate, the game was as smooth as butter. I'm assuming they had a dedicated beta server for the PAX booth, but I definitely hope the final product runs as smoothly as it did when I played.
The sound, music, and effects was good, but not remarkable. The sound was delivered via a Turtle Beach Earforce zSeven headset (which runs around $250).
The gameplay was pretty self explanatory, and controls were easy enough to figure out. That said, the combat controls were very basic: left mouse click to attack, hold left mouse for an extended attack. Right mouse click to block, and the number keys to launch special attacks. After fighting a dozen or so enemies, it started to feel pretty repetitive and the combat moves were always the same.
Keep in mind, the game is still in Beta afterall (by the way, they are still accepting beta applications at www.elderscrollsonline.com)
Here are some photos from the booth.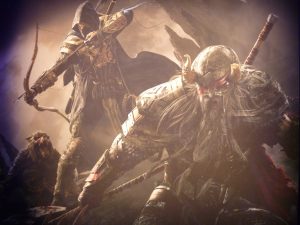 The Elder Scrolls Online releases in Spring 2014.  Check out the trailer here.
---