---
The Addams Family
---
Let's play a game. It's called 'Is there a God?'
—Wednesday Addams
Sometimes Netflix pulls through.
The last several weeks have been hard on my brain, as far as review movies go. Between writing up Human Centipede and Hellraiser and watching the god-awful Hellraiser equals for a future review, I'm ready for a mind cleanse. Thankfully, Netflix came up with a little ribbon it had never displayed before: "Dark Movies." And in pole position on that ribbon was The Addams Family, the 1991 feature-length adaptation of the 1960s television show.
Netflix knew what I needed. Something gothic, but not gross. Funny but not distasteful. Witty, but not hurtful. So I settled in for my first rewatch since adulthood. I'm happy to report that the movie still holds up after all these years.
Those of you looking for gross, distasteful, and hurtful will not enjoy this movie. Based on the 1960s TV show (which itself as based on New Yorker cartoons from the 1930s), the film is all about the adventures of the wacky Addams clan: Gomez Addams and his wife Morticia, their children Wednesday and Pugsley, Grandma, and the butler Lurch. The Addams are eccentric millionaires, who revel in the macabre and the grotesque. For them, darkness and despair are the norm, and they shun anything happy and good. The film (thankfully not an origin story) centers around con artists who try to swindle the Addams' out of their massive fortune. To do this, they enlist the help of Gordon, who is the spitting image of Gomez's long-lost brother Fester Addams. That's really it as far as plot is concerned. The rest of the movie is one-liner after one liner, all delivered is a deadpan style amid glorious set pieces of the Addams family mansion.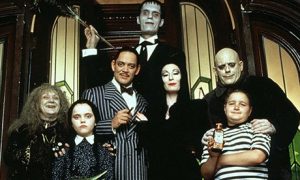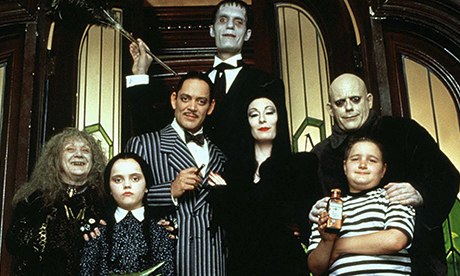 Normally I'm not one for plotless movies, but in this case I make an exception. The original comic strips were one-panel Far Side-esque cartoons, and the TV show wasn't much more. The film version doesn't need to be any more than that, but what it needed was the right cast to make the family believable, and this is where The Addams Family delivers in spades. Raul Julia as Gomez, Anjelica Huston as Morticia, Christopher Lloyd as Fester and a young Christina Ricci as Wednesday. These four bring the characters to life in ways no one else could have. Julia tones down Gomez's wackier side from the TV series, playing him a little more serious. Huston steals the show as Morticia, and in my opinion she has the best one-liners, delivered in a whisper so dry it needs watering. Ricci is likewise just as perfect as Wednesday, and her quips about murdering people sound amazing and dreadful coming out of the mouth of a 10-year old. And Lloyd is such a chameleon here; you wouldn't recognize him from the blockbuster 80s films he'd done just a few years prior. Between the pitch-perfect casting and the lavish set pieces that bring the family mansion to life, plot matters little. The comedy is genteel, but still funny, and although I've seen the movie several times I still found new things to laugh about on this rewatch.
While Addams Family Values followed two years later, Raul Julia's unexpected death in 1994 prevented any further sequels being made. It's just as well. Amid all the adaptations of the characters, I'm satisfied with just having two very good movies. There's not much to them plot-wise, but thanks to the cast there doesn't need to be. I'm happy watching Julia sword fight and Huston whisper sweet nothings in French for ninety minutes. Mamushka!
tl;drs
Quick summary: Con artists try to fleece the Addams Family out of their massive fortune.
Too many writers? Two's a decent number and the writers have gothic cred, having also written Beetlejuice, Edward Scissorhands, and The Nightmare Before Christmas.
Recommended if you like: Deadpan humor. Quips.
Better than I expected? The cast still impresses me after all these years.
Worse than I hoped? There's not much of a plot, which could have sunk the movie in the hands of a lesser cast.
Would it work better in a different medium? Pick your poison: TV? Comics? Musicals? Scooby-Doo cameos? All been done.
Verdict: Better than most adaptations, The Addams Family relies on its cast and sets to carry the movie.
---