---
The best hidden gems from PAX West 2017
---
PAX West is an undeniably huge hype train rolling down the tracks toward the holiday buying season. A dizzying array of lights and thumping music assail the senses of all that enter the hallowed halls of the Washington State Convention Center. A siren call to see the newest and flashiest games to hit physical and digital shelves for months to come. But amongst all the titles like Monster Hunter: World, Far Cry 5, and Wolfenstein II: The New Colossus are the less hyped titles with budgets that don't allow for giant booths with dragons, dinosaurs, or really tasty strawberry shakes. These five games are some of my favorites hidden in the neon and techno shadow of the goliaths.
Battle Chef Brigade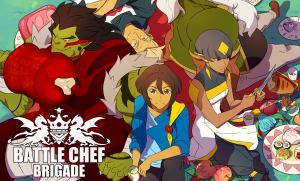 I'm unbelievably excited for this combat/puzzle/cooking game from Trinket Studios and Adult Swim Games. Battle Chef Brigade is the story of Mina Han as she leaves home to pursue her dream of joining the cream of the crop in the cooking world. The PAX West demo has players running out to hunt down ingredients before returning her to the kitchen for some cooking challenges. The combat has simple controls, but a robust array of moves and abilities to hunt down challenging enemies. With ingredients in hand, Mina sets pots on the flame and cooks by way of a match three style puzzle game. Combining gems that are alike in type and level creates a higher level gem and increases the quality of the dish. The full version will include upgrades for both cooking and combat when it launches later this year on PC, PS4, and Nintendo Switch.
Puzzle Fighter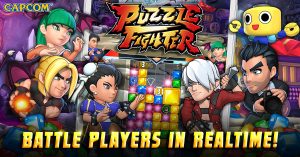 Hidden away on a small kiosk near the craziness of everything else Capcom had on display were four tablets with a demo of Puzzle Fighter. As an oddly named follow up to the original Super Puzzle Fighter II Turbo, it continues the tradition of gem-based combat puzzling. Players will be able to face off against each other in real-time through their mobile devices. I played against a few different people to varying levels of success, but it was always a good match. I have to say that getting used to gesture controls in something so fast-paced is difficult for me. Additionally, I feel like there's a little something lost by not competing with a person sitting next to me. The friendly jabs are part of what made the original so charming to me. Nonetheless, being able to take Puzzle Fighter on the go and play a match whenever I want is going to be great. It'll be on Android and iOS later this year.
Fort Triumph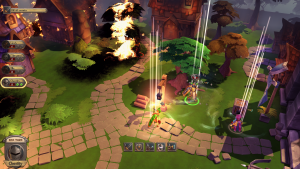 Fort Triumph is often described as a "fantasy XCOM" since it's a turn-based tactical combat RPG. In fact, it does share quite a few similarities, but the differences are what made this demo shine for me. In my first mission after completing the tutorial, I managed to accidently raze the entire village I was trying to save. The game emphasizes environmental interactions like shoving barrels, knocking trees or lamp posts over, and lighting things on fire. It's just that when I lit a tree on fire, I didn't realize that the fire would spread like an actual fire. So I definitely got the goblin I was trying to kill, but then things went south. Anyway, the Fort Triumph demo (available now on Steam) showcases four characters with unique appearances and abilities working together to try and save the world in classic heroic style. Definitely worth checking out.
MOTHERGUNSHIP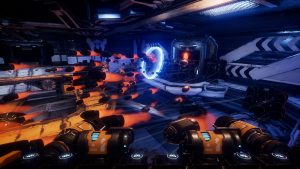 The successor to 2015's Tower of Guns, MOTHERGUNSHIP is a game with the caps lock constantly on. But while Tower of Guns let players find and use some weirdly wonderful guns, MOTHERGUNSHIP takes it a step further by letting players build their own guns. I used to do this with building toys when I was a kid, but my imagination never looked this cool. The crafting system is like Mega Blocks for maniacs with more interconnecting pieces than I had time to look through on the show floor. When I get my hands on this game, I'm going to make the Absurdotron 9000 look like a cap gun. (Do they still make cap guns?)
Of course, the gameplay is still as solid as ever. I appreciated a demo that lets me start with a double jump–especially when dealing with dozens of large projectiles. It's frenetic and crazy and did I mention huge bosses? It's got huge bosses. Also the hug bots are back. This game is near the top of my most anticipated list for next year.
Moonlighter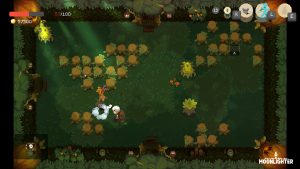 Tucked away in a back corner of the expo hall between the massive Warframe booth and the retro-heaven of Pink Gorilla was a cool little game called Moonlighter. It's about being an adventurer (as many games are), but also about being a shopkeep. I was drawn to it for the top-down retro style that called to my love of Link to the Past. The pixel graphics are cute, the monster designs are fun, and the music fits perfectly. Gameplay is broken down into three basic phases. There's the overworld where you walk through town and chat with people to get information like any action RPG. Then there's the dungeon phase where players slay monsters and try to come away with as much treasure as possible. And then there's the shop phase where players need to figure out the best prices for the items they found so people will buy them. The last phase is more fun than it might sound. Projects like this make me feel like I should be spending more time on Kickstarter.
I had a great time at PAX West 2017 and got to check out a whole lot more games than I could ever process. I'll be writing about more individual titles as I get my hands on them. Did you play anything at PAX that I might have missed? Tell us about it in the comments!
---