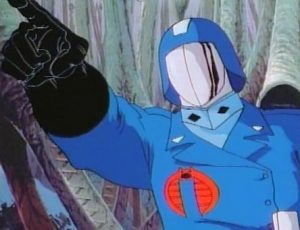 Like many people my age, I collected GI Joe action figures as a kid. What set my collection apart was that it consisted entirely of Cobra action figures. I wasn't interested in the Joes; I loved Cobra and wanted to collect all their toys. Destro, Cobra Commander and the rest were way cooler than the do-gooders. Thankfully, my parents took my obsession with the bad guys in stride and didn't put me on any kind of mood-altering medication or report my "suspicious" toy collecting to anyone in the medical field.
With Forever Evil, DC has managed to tap into my inner childhood fascination with being the bad guy. Forever Evil is the second stand-alone expansion for the DC Deck Building Game (after Heroes Unite). Like Heroes Unite, you don't need the original set to play Forever Evil, although combining sets allows for a great new game mode (more on that later). Forever Evil has a similar premise to the first two sets: players purchase cards from a main deck to build their own decks. They then use their cards to fight and score victory points.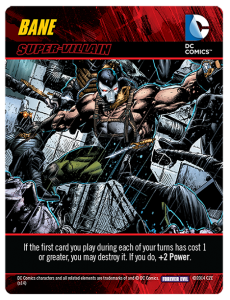 The twist in Forever Evil is who players are fighting. Instead of taking on the role of a super hero like Batman, Superman, or the Flash, players choose one of seven DC villains and try to defeat a super hero. Black Adam, Lex Luthor, and Bane are among the playable villains, although the only bad girl in the bunch is Harley Quinn. Many of the mechanics will be familiar to players of the earlier expansions: cards are bought for power, super heroes make attacks when they first enter play, and players collect equipment, location, and weakness cards.
The major mechanic twist is Forever Evil's insistence on destroying cards. While the first two sets focused on players collecting cards, Forever Evil features many cards that provide bonuses or victory points only when that card is destroyed (i.e. removed from the player's deck and discard pile). In this way, players truly emulate super villains, who rampage to their hearts' content without a thought to the consequences. This mechanic also means Forever Evil is more resource-based than the other DC sets.
Because players can only use a card's bonus once before it is destroyed, they must conserve their resources and destroy each card only when it is the most advantageous to do so. Several cards only provide victory points when certain cards have been destroyed. A great example is the Phantom Stranger hero card. Phantom Stranger's face value is 10 victory points; however, each Punch card in a player's deck is now worth -1 victory point. Although Punch cards give power to spend on more cards, Phantom Stranger encourages players to destroy those cards to ensure the full value of Phantom Stranger.
Like the other DC Deck Building Game sets, Forever Evil can be played by 2-5 players. It's a perfectly fine two-player game, even though my wife and I found the first few rounds a bit slow as we figured out the new mechanics and strategies. The new "destroy" mechanic does take some getting used to; weighing the risks of trimming a card from our decks for the potential rewards was something we had to take into consideration with every turn. In the end, we found this expansion just different enough from the other expansions to be fun and will be playing it again.
And next time we're going to combine our copy of Forever Evil with our friends' copy of Heroes Unite to play the new rule variant: Good Guys vs. Bad Guys. By combining Forever Evil with either of the previous expansions, players can then split up into teams: heroes and villains. In this scenario, the heroes battle a stack of super villains while the villains battle the super heroes. It's an interesting further twist on the game and one I look forward to trying out.
tl;drs
Quick summary: Forever Evil is the latest stand-alone expansion for the DC Deck Building Game. This time, you play the villains, trying to defeat the super heroes of the DC universe.
Recommended if you like: Any of the DC Deck Building Game iterations, plunder, carnage and mayhem.
Better than I expected? Between the novelty of playing the bad guy and the new mechanics, there's something new and enjoyable for those familiar with previous DC sets.
Worse than I hoped? Harley Quinn is the sole playable female villain. There's no Poison Ivy or Catwoman, let alone Talia al Ghul or Star Sapphire. My wife appreciated the gender diversity Heroes Unite brought to the table, but Forever Evil seems like a step backward.
Verdict: Forever Evil is a great addition to the DC Deck Building Game sets, with a fun premise and enough variation in the gameplay to encourage replay.
Related Reading: My review of the original DC Deck Building Game.